Staff development – Disability Awareness training in customer service
Did you know that 24 percent of New Zealanders are considered to have a disability? 
That potentially represents one quarter of your customer base – are your service staff equipped with the right customer service skills to ensure a positive customer/client/patient experience for everyone?
 "No Problem, You're Welcome" is a training workshop and video which focuses on how to provide excellent customer/client service to people with disabilities when they enter your place of business.
No Problem You're Welcome training workshop – A4 Flier
Who is the "No Problem, You're Welcome" training workshop for?
This 2-2.5 hour training programme is ideal for health service providers and Non-Government Organisations (NGOs), front-line staff, Government Departments, Health & Disability Services and any business or organisation that wants to improve their services for people with disabilities.
It is a short and cost-effective means of providing professional development for staff that can have a significant positive impact on the customer's experience with your frontline personnel, and help with how staff engage with disabled people including older people as they become less mobile or develop physical impairments as they age.
This means any business or organisation whose customers are members of the public will find value from the training.
These include: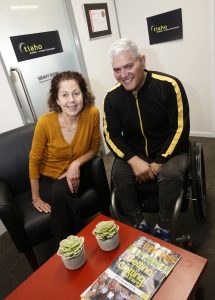 Restaurants and cafes
Retail stores
Government Departments
Health & Disability Services
Gyms, pools and fitness centres
Non-Government Organisations
Contact Tiaho Trust for Pricing and Information
Training Video trailer
Regional Business Partners 50% training voucher
The "No Problem, You're Welcome" training workshop comes under the NZTE Capability Development Vouchers scheme. Eligible commercial organisations can apply for 50% funding of staff training up to a fixed dollar value each year. You can apply through Northland Inc. and the Northland Chamber of Commerce Regional Business Partnership.
About the No Problem, You're Welcome" workshop
The training workshop, along with our locally produced training video, should take between 2 and 2.5 hours to complete.
Tiaho Trust provides the facilitators to run the workshop, along with workbooks and other support material for attendees. All our facilitators are people with disabilities, bringing an authenticity to the training that can only come from the real life experiences and examples shared with participants.
The training is designed to encourage discussion and thinking around how we view disability and what assumptions we bring to how we interact with customers who have an impairment.
By the end of the training, attendees will be able to view disability from a different perspective and have greater confidence in providing excellent customer service to disabled people in the same way they do for all customers.
For information and pricing, please fill out the enquiry form below:
[vfb id=2]